Ever wonder what north western Texan city is Spanish for yellow?
Amarillo, the biggest quintessential Texan town located in the Panhandle is home to all sorts of attractions. From scenic views to an eccentric art scene, there is plenty to see in the Yellow Rose of Texas.
Perhaps…
Perhaps the most iconic attraction to visit is non other than Cadillac Ranch, a classic landmark beside Route 66 consisting of ten Cadillacs half buried in the ground.

Why not check out the "Grand Canyon of Texas" or Palo Duro Canyon State Park as its more commonly known.
With more than 30 miles of hiking, biking and equestrian trails you can explore the second largest canyon in the country's rugged beauty and colorful history.
Offering glimpses of the Wild West
You can cross the Texas Panhandle on iconic Route 66. This scenic route provides you with many vintage road icons. A journey you're sure to enjoy across the Lone Star State.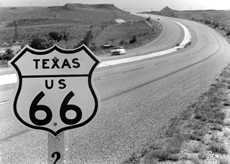 Everything is better in Texas, including our steak! While you're in Amarillo make sure you stop by The Big Texan Stake Ranch ; home of the 72 ounce steak challenge. If you eat it in its entirety your meal is free!
Amarillo offers something for visitors of all ages. Saddle up and discover the historic city for yourself